LACROIX City is committed to continuous improvement aimed at satisfying our customers and employees, the performance and efficiency of our organisations and the preservation of the environment and natural resources.
All of our sites are ISO 14001: 2015 and ISO 9001: 2015 certified by Bureau Veritas.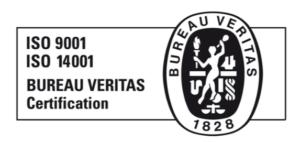 Our Internal Approach to Quality, Safety and Environment:
A dedicated team manages the Quality Management System for all of our business divisions and deploys structuring and digitised processes covering all stages from the design to the delivery and commissioning of our equipment.
The Management and all of our employees are involved in the company's Quality, Safety and Environment policy, and on a daily basis, strive to search for continuous improvement. At each of our sites, Quality, Safety and Environment benchmarks help raise the various teams' awareness.
Supported by the LACROIX Fab community, we strive for operational excellence and continually renew our methods and industrial tools with the aim of achieving 100% satisfaction on the part of our customers.
Our Manufacturing Processes:
The environmental approach can also be found in the manufacturing processes of our products. For example, signboards are preferably digitally printed. This signage decor technology reduces the use of solvents. This is beneficial both for operators and the environment.
We strive to build in ecological value through consistent actions such as extending the service life of our products and their guarantees. All of our products are designed according to the new WEEE and RoHS2 guidelines for waste reduction, as well as the cost of recycling and maintenance. The major advantage of this is to improve the yields and energy efficiency of our products. They help reduce the carbon impact, preserve the nocturnal environment and thus obtain CEE (Energy Saving Certificates) certification. This is a real asset for end-user customers who have equipment designed in the spirit of the Paris Agreement and the new EUP Directive.