Commitment to road safety and high-quality Products
We are committed to making the road safer by paying particular attention to the design and quality of our products. This is why we offer road equipment that is NF CE certified and guarantees the performance of our products in various ways:
Mechanical resistance
Retro-reflective and colour performance
Durability
The NF Mark
The NF mark carries the indisputable proof that a product conforms to the safety features and/or qualities defined in the French certification references.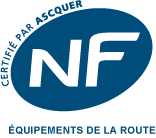 The CE Mark
The CE mark is the visible commitment that our products comply with European legislation.
In order to anticipate changes in regulations, we are actively involved within the commissions for European and French Standardisation. This mission drives us towards innovation and to develop products that always perform better and last longer.