Congestion, pollution, declining grant levels, budget constraints, the need for security, the development of new uses for public-participation spaces, etc., are all challenges for local authorities, towns and cities, and territories.
The equation for public officials to solve is complex!
Traditional solutions sometimes show their limitations in the face of diverse needs.
All of LACROIX City's teams are encouraged to think differently and offer innovative solutions to support our customers and assist them in the challenges they face.
At LACROIX City, innovation is clearly technological and based on our connected digital solutions; but innovation also means evolving our traditional business lines and offering new answers to meet the expectations of the territory.
MANAGING AND CONNECTING IN A SMART WAY
When it comes to both street lighting and static and dynamic road signs, LACROIX City develops management ecosystems that are easy to implement, intuitive, internet-connected and interoperable. What's the aim? Ensure communication between equipment, users and operators to remotely control and adapt signalling and lighting to the situation.

More than 2500 Tégis public lighting remote management systems installed in more than 15 countries in 10 years.
KEEPING DATA AND INVESTMENTS SECURE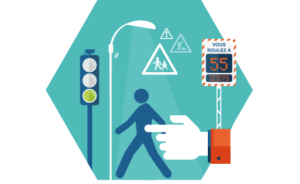 Mindful of the cybersecurity of its equipment (protocols and hosted sites), LACROIX City guarantees the longevity of its installations by using interoperable technology that is scalable to future usage.